On Thursday 21st April, we welcomed 60 marketers to our office for a Technical SEO Masterclass, hosted by our Head of SEO, Bea Patman, and four of our SEO Consultants. Judging by the number of attendees and engagement levels, the event certainly reflected the hunger that marketers have to improve their understanding of the more technical side of SEO. Here's a summary of the core topics covered during the event:
Search engine algorithms
Given that Google's algorithms rely on more than 200 unique signals, it's no wonder marketers are scratching their heads. The best place to start is taking a look at some of the biggest algorithms of 2015 to understand how the changes have impacted SEO overall.
22nd April, 2015: Mobile-friendly update / "Mobilegeddon"
The pre-announced update rolled out, changing the way that results were ranked on mobile and favouring sites that were 'mobile-friendly'.
3rd May, 2015: Quality update / "Phantom"
Initially unconfirmed by Google, hence the nickname, this was an unspecified update to the core ranking algorithm.
17th July, 2015: Panda 4.2
A long-running rollout of a refresh to the Panda algorithm, affecting 2-3% of search queries (lower than the previous two updates).
26th October, 2015: RankBrain
Google announced that machine learning has been a component of the core ranking algorithm for several months - most likely since spring. RankBrain uses artificial learning to process written words, allowing it to handle "a very large fraction" of all search queries in Google.
On-page ranking factors & best practice
Many will speculate on the exact numbers behind the importance of different signals, but the below graph is a good indication on the different factors and their weighting. What's clear is that there's a 60% off-page weighting to a 40% on-page content weighting, and whilst many tend to focus on the off-page signals primarily, it's worth noting that the on-page factors are what really power off-page dominance. That means focusing on how mobile-friendly your site is across devices, maximising usability (low bounce rates, good user journey, etc) and potentially including an app (if it makes business sense).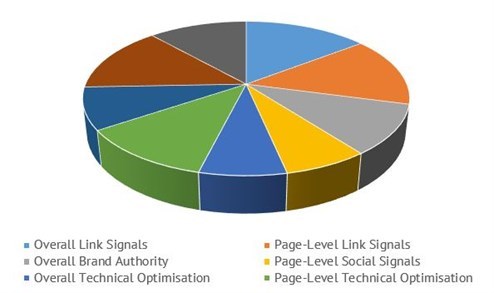 Migrations & risky events
There are plenty of issues which can arise when undergoing a site migration or restructure, so our Senior SEO Consultant, Dan Lee, has summarised some of the key areas to focus on in order to avoid any major issues:
1)      Factor in SEO when defining your information architecture
2)      Ensure a complete redirect map is created
3)      Plan enough time for SEO's to fully crawl and test the new site before launch
4)      Ensure content is marked-up to make it easier for search engines to process
5)      Consider responsive design rather than a separate mobile site if the content is the same
6)      Be specific when defining SEO requirements for developers
7)      Benchmark your pre-migration organic search performance
8)      Create a strategy to recover lost link equity
9)      Conduct user testing & conversion rate optimisation pre-launch
10)   Ensure there is professional SEO support from the beginning of the project
To view our event video, click here.