What is Waze?
Founded in 2007, Waze is a GPS based navigational app, whose content is driven by its users (currently listed at around 50 million registered). The crowdsourced app combines online maps with updates from other users about traffic jams, road works and accidents.
The Israeli based company has raised US$67m independently over the past 5 years (a little less than the US$1.3bn that it was eventually sold for). It had been rumoured that both Apple and Facebook were in discussions with Waze to strike up an acquisition deal, but talks appeared to break down (allegedly the re-location of its 120 staff to California was something which eroded talks with Facebook).
Why?
Whilst an inflated price of a startup tech company is not out of the norm (considering the recent purchase of Tumblr by Yahoo for $1.1billion), there are several reasons why this purchase has larger implications than simply owning the market place.
Competition
Waze is possibly the 5th largest mapping company currently in existence (behind Google, Microsoft, Apple and TomTom). With Google's purchase of the company, it has essentially blocked its competitors from doing the same. However, it has now potentially landed itself in trouble with consumer groups and faces an anti-trust probe in the U.S (a recent U.S pressure group has requested that the Department of Justice investigate the takeover).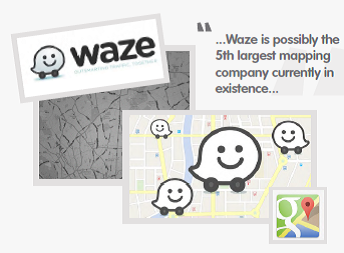 Content
The content for Google Maps has been created by spending infinite sums of money on sending streetmaps cars around the world to map the roads they drive through - allegedly the cost of this exercise has equated to US$15bn so far (according to Waze CEO Noam Bardin). Waze differs as its content is crowd-sourced, meaning its users passively provide GPS data (i.e. if a user is driving around with the app turned on, Waze uses this data to monitor its existing maps). Waze's maps are updated every 24 hours; whilst Google's are updated closer to once a quarter at its most frequent (this is only for select areas).
Waze also has the added extra that roughly 10% of their users actively update the maps themselves, and are rewarded with the same gamifaction mechanic as Foursquare. This offers a unique selling point that other mapping competitors do not have, which in turn could further help increase brand loyalty if and when the application is pre-loaded on Android devices in the future.
User Intent
Of course whilst content creation is important to Google, the prime reason for the acquisition is likely to be monetisation. With the ever increasing surge in web traffic, the key to monetizing this activity will be to provide users with accurate ads - which can only be achieved by understanding why users are using the ap. The thought process is, if users of Waze are engaged with other users, in a 'social' aspect, mentioning where and why they are travelling somewhere (in addition to uploading updates about oncoming traffic jams), Google is able to potentially serve relevant ads within the map itself. 
This is currently being tested in the existing Waze interface, where deals have been struck with major advertisers such as Taco Bell, Starbucks and AT&T. Waze's CEO, however, says that ads will only likely work if they provide a 'reason' for the user - an example in the future could be Groupon style-deals within the map interface offered to users travelling to a certain destination.
When travelling to work, users may want to know which petrol station has the cheapest petrol, or when visiting a department store, they may want to see offers for stores around that particular location. The potential for serving  such ads is limited - especially now Google has further increased geo-location targeting options with the roll-out of its Enhanced Campaigns (where location specific site-links can be served within the SERPs.)
Local Search
Whilst talks with major advertisers will likely be the key in growing revenue, the growth in local advertising is also something being explored by both Google and Waze. Currently, Adwords is already giving a 'keyword-less' ads option, where advertisers can set up an account and run it themselves, without having to employ an agency to run their campaigns on their behalf. Waze also has a somewhat similar offering, which allows advertisers to pitch to the end user themselves. If this offering is further developed, alongside the 'coupon-deal' business model, this could help smaller advertisers monetize their own offering and not have to rely on giant discount sites such as Groupon.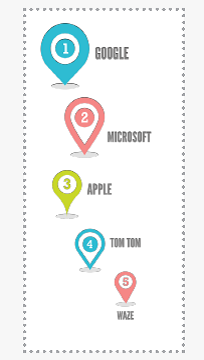 In Summary
Whilst this purchase has only recently occurred and may be impacted by the recent antitrustpressure in the U.S, it is clear that location-based search is something which is going to be further explored by Google. Google had already foreseen that the future of Search was going to be related to mapping, back in 2003 (when Google maps was first released), however, serving users with relevant, non-infringing ads within the mapping interface is now finally being realised.